HEARD IT AND READ IT
Prepared by Bassam Mechammil
January 2009
For comments; please email Mechammil@aol.com
HEALTH: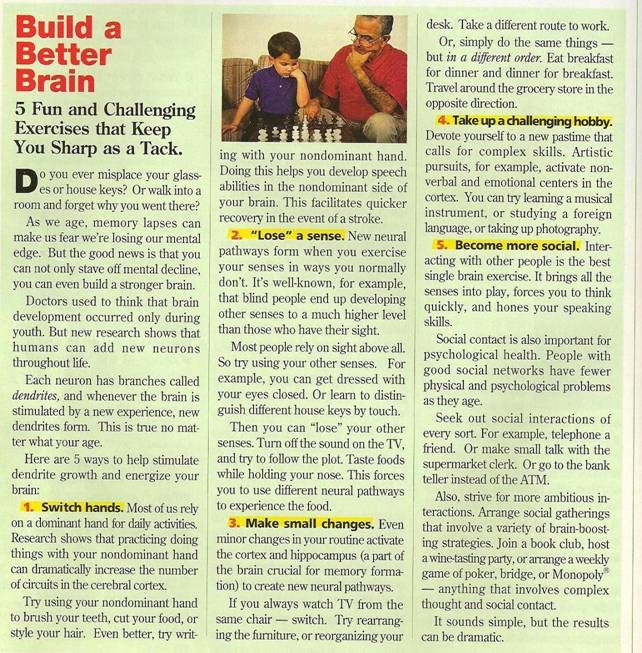 Men get hot flashes too:
Hot flashes in men result from low testosterone and are a common side effect of androgen deprivation therapy, a treatment for advanced prostate cancer. What can you do?
If hot flashes are bothering you don't feel embarrassed to mention them to your physician. Write down any foods or actions that seem to trigger hot flashes and share this information with your doctor.
Questions and Answers!
Q: WHAT CAUSES DRY MOUTH AND WHAT CAN I DO ABOUT IT?
A: Dry mouth occurs when the salivary glands produce inadequate saliva. Not only does saliva help with eating and digesting food, it also protects against tooth decay and helps control bacteria in the mouth. When you lack adequate saliva, chewing and swallowing can become difficult, making you more susceptible to choking. Hundreds of prescription and over the counter meds can cause dry mouth. Other causes include diabetes and Parkinson's disease as well as chemotherapy and radiation for head and neck cancer. Talk to your doctor about dry mouth. They can recommend an artificial saliva spray or different prescriptions. Drink plenty of water and sugarless gun. Avoid caffeine, tobacco, and alcohol.
EXERSISE MAY PREVENT ABNORMAL HEART RYTHYM IN OLDER ADULTS:
Light to moderate exercise, such as walking, may reduce your risk of atrial fibrillation (Afib), an irregular heart rhythm common in older adults. A study included 5446 people over 65 whose physical activity was evaluated and compared to their risk of Afib. Research found that compared to those who walked less, people who walked just 5 to 11 blocks per week had a 22% lower risk of Afib while those who walked 12-23, 24-59, and 60 or more blocks per week saw their risk decline by 24, 33, and 44 %. And Compared to those who walked at slower paces, people who walked at 2-3 mph and faster than 3 mph had a 32 and 41 % lower Afib risk.
GOOD THINGS TO KNOW! We share this with our friend mastro3a karkora.
<![if !supportLists]> 1. <![endif]> Peel a banana from the bottom and you wont have to pick the little stringy things off of it.
<![if !supportLists]> 2. <![endif]> Take your bananas apart when you get home. If you leave them connected at the stem they ripen faster.
<![if !supportLists]> 3. <![endif]> Store your open chunks of cheese in aluminum foil. It will stay fresh much longer and not mold.
<![if !supportLists]> 4. <![endif]> Add a teaspoon of water when frying ground beef. It will help pull the grease away from the meat while cooking.
<![if !supportLists]> 5. <![endif]> To make scrambled eggs rich, add a couple of spoon full of sour cream or cream cheese and then beat the eggs.
<![if !supportLists]> 6. <![endif]> Place a dryer sheet in your pocket. It will keep the mosquitoes away.
<![if !supportLists]> 7. <![endif]> To keep squirrels from eating your plants, sprinkle your plants with Cayenne pepper. The cayenne pepper does not hurt the plant and the squirrels won't come near it.
<![if !supportLists]> 8. <![endif]> If you seal an envelope and then realize you forgot to include something inside, just place your sealed envelope in the freezer for an hour or two. It will unseal easily.
<![if !supportLists]> 9. <![endif]> Supermarkets usually place the most expensive items at eye level where they are more likely to be selected. To get the best buys, look on the upper and lower shelves first.
<![if !supportLists]> 10. <![endif]> Most dangerous times of the year to be in the hospital are July and August. New Doctors fresh out of medical school begin their residencies on July 1st and most senior doctors are on vacation during this time.
Mexico's Most Expensive Tequilas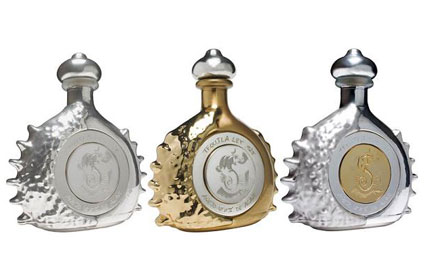 Ultra Premium Tequila Ley .925 "Pasion Azteca": $225,000
This platinum-and-gold bottle fetched nearly a quarter-million dollars at auction in Mexico City last year. The spirit that fills it is a triple-distilled mix of 8-, 10- and 12-year-old agave plants and is produced by Hacienda La Capilla Distillery in Los Altos, Jalisco. Ley .925 CEO Fernando Altamirano says the liquor is aged in barrels whose provenance is "top secret."
TRAVEL TIP: For the luxury traveler touring the tequila region, Altamirano recommends the Camino Real Hotel in Guadalajara. This garden oasis has been host to numerous Latin American leaders, including the Mexican president, and its newly opened cantina-restaurant, Maria Bonita, features fine regional cuisine and a wide selection of tequilas
Delicious Wines of 2008
Of wines we tasted this year, one (Château Latour) earned our highest rating, Delicious!, and we ranked eight others Delicious. These prices were representative at the time of the tasting. These are likely no long available, at least in these vintages, but think of them as examples of Delicious wines on shelves everywhere. Explore!
Château Latour 2005 (Pauillac)
France. $1,950.
Bordeaux's 2005 vintage was widely praised, leading to outrageous prices on top wines. At least this one was pretty darn spectacular. It deserves a most stately entrée, such as chateaubriand.
Charles Heidsieck Blanc des Millénaires Blanc de Blancs Champagne 1995
France. $89.95.
In a tasting of "prestige Champagnes," this was our surprise winner, the only wine that cost less than $100. This pairs well with just about everything, from scallops in cream sauce to sushi.
Vinum Africa Chenin Blanc 2006 (Stellenbosch)
South Africa. $10.95.
South Africa is trying to get a foothold in the U.S. market, so there are some great deals, like this bright, confident white. It would pair well with a rich avocado salad or veal in cream sauce.
Don Olegario Albariño 2005
Spain. $19.20.
Some of the world's most exciting wines are coming from Spain and Albariño is just one example. This is great to sip alone and wonderful with any type of seafood.
Don David (Michel Torino Estate) 'Reserve' Torrontés 2007
(Cafayate Valley), Argentina. $16.
Argentina has become a major player with its signature red, Malbec. Now its signature white, Torrontés, is getting attention, too. Try it with poultry.
Vietti 'Scarrone' Barbera d'Alba 2005
Italy. $41.40.
Italy's Barbera continues to be one of the most charming wines around and is always a good bet for a big red. Think Gorgonzola gnocchi.
Vincent Girardin Premier Cru 'Les Caillerets' Volnay 2005
France. $63.15.
Red Burgundy can be a heartbreaker, but we found the wines from 2005 consistently excellent. This sings with duck and roast chicken.
Dead Letter Office (Henry's Drive Vignerons) Shiraz 2005 (McLaren Vale/Padthaway)
Australia. $28.
This huge, ageable wine would go well with a roasted leg of lamb or veal chops.
Pirramimma (A.C. Johnston) Shiraz 2004 (McLaren Vale)
Australia. $20.99.
We have been disappointed with Australia's Shiraz for some time, and we were disappointed again this year, but this and the Dead Letter Office show what these wines can be.
Are automated poker tables the future?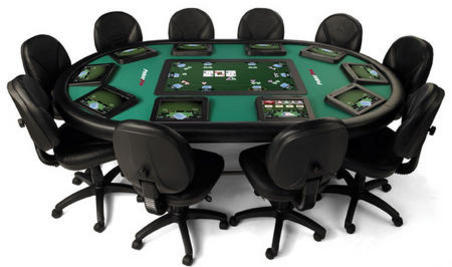 Courtesy of PokerTekThe PokerPro automated tables by North Carolina-based PokerTek are used at the Four Winds Casino Resort.
KALAMAZOO -- Robots are taking over the world, even poker tables.
OK, so it's not exactly the stuff of a sci-fi/horror film, but some people in the gaming industry think the future of poker rests with automated tables. In August 2007, Four Winds Casino Resort in New Buffalo installed 19 PokerPro tables, automated poker tables made by Matthews, N.C.-based PokerTek. At the time, it was the world's largest poker room running exclusively on automated tables. Four Winds now has 14 of the tables as part of a redesign, and poker-room manager Glenn Arana said they will soon be commonplace in casinos around the country.
"Coming from a traditional background of poker, I immediately said this is the future of poker," said Arana, who predicted they'd be mainstream within five years.
Since being installed in Four Winds, PokerTek, which started in 2005, has expanded into larger gaming markets with a dozen tables in Atlantic City, another dozen in the Excaliber Hotel and Casino in Las Vegas, and at five properties in Montreal including Casino Montreal, which has 24 tables. There were 237 PokerPro tables worldwide as of the end of June, and there are almost 9,400 manual tables worldwide, according to PokerTek.
"Our experience at Four Winds has shown us we're able to easily and successfully manage a PokerPro room in other markets as well," said PokerTek vice president of marketing and product management Tracy Egan, who graduated from Mattawan High School in 1991 and Western Michigan University in 1996. "We definitely feel like we've proven the technology works and can take the place of manual tables completely."
From a potential cost-cutting perspective, automated poker makes sense: Casinos don't have to pay dealers or handle chips; the machines track the action; it's faster, meaning more hands per hour; and there's less risk of human error, either from players or dealers. Proponents also say it's less intimidating for beginners or online-only players.
But will most players embrace the tables?
It appears to be a question of stakes (how much it costs to play) and player experience.
Blue Chip Casino vice president and general manager Ted Bogich said installing automated poker tables is "not in the immediate future." While he thinks they will become more visible in more casinos, he doesn't think they'll replace manual tables. They appeal to low-stakes, "casual" players, he said. The players Bogich has talked to are more comfortable handling cards and chips. They also say some of the strategy and skill of reading opponents is lost on automated tables.
"For us at this point," Bogich said, "we believe there is a strong preference for the live game."
Poker pro and host of the "World Poker Tour" Mike Sexton seemed to agree with both sides. Sexton said in an August interview with Casino City Times that it's the "wave of the future, at least as far as low-stakes games are concerned."
How it works
With automated poker tables, there are no dealers, cards or chips. There is a main screen in the center of the table that shows chip stacks, betting order and the flop. Each player has their own screen and can reveal their cards by sliding their hands over the dealt cards. All the math is done by the table, and players are prompted when it's their turn to bet. There also are audio cues to indicate when someone has bet.
PokerPro makers say their tables allow for 40 to 45 hands per hour as opposed to 20 to 24 hands per hour at manual tables.